Congratulations! Nita & Mukesh Ambani's son Anant Ambani gets engaged to Radhika Merchant in Nathdwara
The Ambanis are in a celebratory mood. Nita and Mukesh Ambani's youngest son, Anant Ambani, got engaged to his longtime girlfriend, Radhika Merchant, in Rajasthan. Seeking the blessings of Shrinathji, they took their relationship to the next level.
The news of Anant and Radhika's engagement was confirmed by the latter's friend Orhan Awatramani on social media. Their relationship came under the limelight in 2018. Since then, Radhika's presence at every Ambani ceremony and event confirmed that something was cooking between her and Anant. During Akash Ambani and Shloka Mehta's engagement, Shah Rukh Khan teased Anant and dropped in a major hint at his love story with Radhika.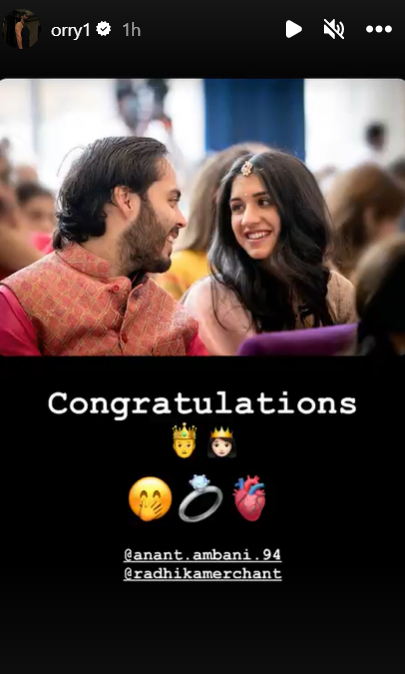 Recommended Read: Nita & Mukesh Ambani to organise grand religious function for Isha Ambani-Anand Piramal's twins, to donate 300 kgs of gold: Reports
For the unversed, Radhika is the daughter of Viren Merchant, the CEO and Vice Chairman of Encore Healthcare. She got her graduation degree from New York University, in Politics and Economics, and returned to India. She worked as a Sales Executive at Isprava in 2017.
Presently, apart from Anant and Radhika's engagement, the Ambanis are celebrating the birth of Isha Ambani Piramal's twins. She gave birth to a baby girl named Aadiya and a boy named Krishna in November.
(Source: Instagram)