Exclusive: 'It is important to speak out, every artiste deserves respect,' says Aahana Kumra on Disney+Hotstar snubbing 'Khuda Haafiz'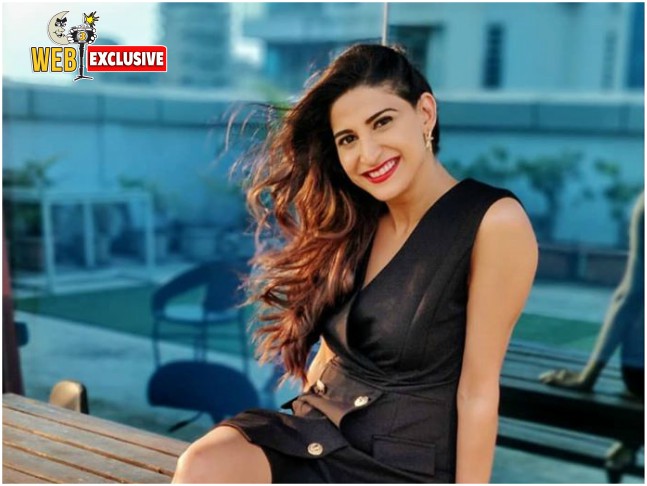 Aahana Kumra has made her place in the Indie film scene and web series. However, for the first time in her own words she is coming up with a full-blown commercial potboiler Khuda Haafiz. The film stars Vidyut Jammwal and Shivaleeka Oberoi in the lead and is inspired by real-life events. Directed by Faruk Kabir, and produced by Abhishek Mangat and Kumar Mangat Pathak, Khuda Haafiz also stars Shiv Panditt. The film is all set to release on Disney+Hotstar on August 14.
In an exclusive interview with PeepingMoon.com, Aahan spoke about her branching out from the indie space, the Disney snub that her film received, her upcoming projects and the insider vs outsider debate prevailing in the industry.
Excerpts from the interview:
Tell us about your role in Khuda Haafiz?
I play an Arab agent named Tamena Hamid. The role is loosely based on real people of Faruk Kabir knows about. The film's about a person named Sameer and he is looking for his wife Nargis as she has been sold for the flesh trade in a middle-eastern country and he is trying to find her with the help of officers- Tamena that is me and Faiz Abu Malik is being played by Shiv Panditt. Khuda Haafiz is an out-and-out masala Bollywood film, it is a complete entertainment pack as it has got drama, romance, action, thriller like a complete package. It is a complete masala film and my first as I have never been a part of such a script before. I also speak Arabic in the film so a lot of firsts for me. I have done stunts and action in the film. Shooting this film was fantastic for me as I was very nervous and thought I couldn't pull it off but thanks to Faruk and the entire team and my action director, I think I have done a good job in the film.
RECOMMENDED READ: The excitement of meeting your fans cannot be substituted: Vidyut Jammwal and team 'Khuda Haafiz' on their film's OTT release
Vidyut Jammwal spoke out about the Disney+ Hotstar snub that your film received when it was not included in the launch event. What do you have to say about it?
Well, somebody has to speak about it and it's important that we do speak. It was not cool what happened, I was not very happy. Actually none of us were, especially after what happened with Sushant, everyone was very angry. So I feel that it is important to speak out, matlab chup baith liye na, ab ho gaya na abhi, it's time to move on, and time to understand that everyone wants respect and deserves respect and everyone needs some space. Nobody is taking away anybody's spotlight. There is space for everyone and we need to make space for others on the stage for others as well. Spotlight sab par jati hai, sab apna kaam hi toh karne aaye hai, sab apna kaam hi toh kar rahe hai. It's important that we work together, move ahead together. Every artiste is looking only for love and respect and admiration. I don't think any artiste works for anything else. What do they really want, they are in the face of fire all the time, if a film doesn't work they are always get the brickbats. It's just important that people realise that no one is expecting anything more than just love and respect. I think it's important to be kind, hasn't the lockdown taught you that?
Why were you missing from the film promotions?
I don't know, I don't think they wanted me included in it. I don't know what was there plan. They hadn't shared any plans with me so I don't know; it was totally their call, honestly.
You were one of the first ones to comment on the insider vs outsider debate. Is there anything that has changed in the industry after this entire fracas?
I don't know, I really don't work much in Bollywood. This is my first stint in something outright commercial. I have been a part of the Netflix series Betaal. Khuda Haafiz is the first full-blown commercial Hindi film per se. Isse pehle I did The Accidental Prime Minister which was again a political film and Lipstick Under My Burkha was very much in the Indie space. I don't know anybody in this industry honestly, I know of people, they know of me but because we haven't worked together it would be very wrong for me to comment on them especially since everyone has different equations with different set of people. With complete due respect to everybody I haven't met anybody who has offered me that kind of work. Whoever gives me work, I work with them very quietly and maintain great relations with them and we work again. I am still a part of theatre fraternity, my play is releasing on August 14. I have not had any bad experiences with anyone or any malice towards me. I don't know insiders at all and I have a lot of admiration for outsiders. I have got all my work through auditions.
Could you tell us about your future projects?
I will be in a series for SonyLIV that is being helmed by Rohan Sippy. It is a genre I have never attempted before so I am very excited about it. I am getting butterflies in the stomach about the show and I am dying to do this. Its comedy and I have never attempted this. I have always done drama so now I am very kicked about it. The cast is awesome and it's a laughter riot. My next two months will be stressful but I will laugh through it. There is another Indie film called How To Kill Your Husband that I was simultaneously shooting for it along with Khuda Haafiz. The film is shot in London. I am a very greedy actor, I want to do everything. My play One-on-One Unlocked is also coming out on August 14. It is 10 monologues of 8 minutes each of every actor. My piece is written by Rahul Dakunia and directed by Gurleen Judge. It is a franchise I wanted to be a part of since the last five years. This is the third instalment in the franchise. Anu Menon, Seema Biswas, Rajit Kapoor, Hussain Dalal, Neil Bhoopalam are part of the play. It will be releasing online on August 14. It's like coming full circle as I started with theatre and now after doing web series and films I am back to theatre.