Exclusive: Here's Tanushree Dutta's FULL statement against Nana Patekar in the harrassment case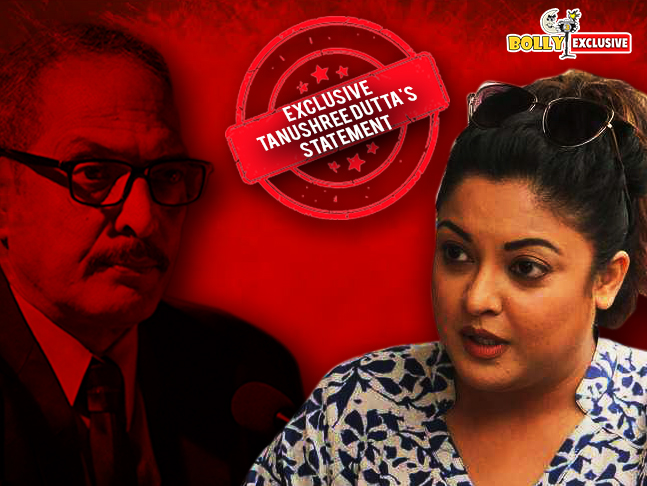 Actress Tanushree Dutta filed a complaint against veteran actor Nana Patekar, choreographer Ganesh Acharya, producer Sami Siddiqui and director Rakesh Sarang, on October 9 for sexually harassing her on the sets of 2008 film Horn OK Pleasss. Now on Wednesday, the Oshiwara police have registered a First Information Report (FIR) against Nana and three others - under section 354 and 509 of IPC.
On October 10, Tanushree was accompanied by her lawyer Nitin Satpute, and recorded her statement. The police questioning went for over 5 hours. Now we have got our hands on the full statement that she gave against her perpetrators in the harassment case.
Read on:
Dt. 10–10–2018
Tanushree Tapankumar Dutta, Age-34 yrs., Occ. Actress, R/o. B-513, Samarth Angan, 3, Oshiwara, Andheri (West), Mumbai – 400 053
I am as above and states that, I am residing on mentioned address since 2007 with my parents. My native is Jharkhand. I was Miss India Universe 2004, since then I am working as an actress in Hindi film industry.
In the year 2008, team comprising of Director Rakesh Sarang, and Producer Samee Siddiqui, who were producing movie called ' Horn OK Please ' approached me for one item song which was produced by Sunrise Pictures Pvt. Ltd. I enter into an agreement with Sunrise Pictures Pvt. Ltd. to shoot the song and get paid a renumeration.
RECOMMENDED READ: Tanushree Dutta questioned for 5 hours; FIR registered against Nana Patekar, to be interrogated
[caption id="attachment_148614" align="aligncenter" width="2480"]
Tanushree Dutta's statement against Nana Patekar[/caption]
From 23 rd March 2008 to 26 th March 2008 I was shooting for a song in the film ' Horn OK Please ' at filmisthan Studio-3, Goregaon (West), Mumbai. The said song was choreographed by Ganesh Acharya whose name was recommended by me as a choreographer. The Director of the said movie was Rakesh Sarang and Producer Samee Siddiqui approached me for the said song. The Director Rakesh Sarang and Producer Samee Siddiqui informed me that the movie featured Nana Patekar but this item song would be only a solo song picturized on me. They also informed me that Nana Patekar would only have one line in the song which they will shoot separately and will not be part of my choreography. The Producer and Director also committed to keep in my comfort level with the clothes and dance steps. The rehearsal of the said song took place on 17th, 18th and 20th March 2008 at Shariq Hall, S.V.P. Nagar, Andheri (West), Mumbai under the supervision of Choreographer Ganesh Acharya and his assistant Ms Daisy Shah.
Before the shoot I had clearly mentioned that, I will not enact and/or perform any lewd or vulgar or uncomfortable steps in the particular song. Subsequently shooting of the said song started at the filmistan studio, Goregaon (West) from 23rd March 2008. All the four days Nana Patekar was on the set despite his work in the song being over. On the 4th day of the shoot, 26th March 2008, in between the shots was going on the set there were around 100 supporting staff including junior artists, dancers and others were present on the set and Nana Patekar against my will and consent started grabbing me by the arms and pushing me around on the pretext of teaching me how to dance even though he is not the choreographer when he was touching indecently and unnecessary in front of everybody but nobody objected and all were complicit in this behavior by being silent spectators. I felt very uncomfortable because of his behavior mentioned above and he has outraged my modesty I felt embarrassed like this his behavior was inappropriate towards me.
He told the choreographer and the other junior artists to back away so that he could teach me the dance steps even though he was not the choreographer and he was not required during the choreography as per my previous rehearsals. This behavior was not natural and I did not feel comfortable about it. And his one line of song was supposed to be performed by him alone and according to producer and director it should have been done on the very first day of shoot i.e on 23rd March, 2008.
I complained about Nana Patekar's above behavior to the producer, director and the choreographer on the same day. I was hoping that they would communicate and take some action to improve the situation. I was getting very disturbed, distracted and uncomfortable hence unable to concentrate on my work.
After I raised my objection the Director, Producer and Choreographer assured me that everything will be fine, but some time later when I was called back on the set from my van for on set rehearsals before the shot, I was informed by choreographer Ganesh Acharya that new steps have been added in the dance sequence which were intimate and included Nana Patekar touching me in an inappropriate way. Samee Siddiqui, Rakesh Sarang, Ganesh Acharya and Nana Patekar had joint meeting on set and they decided to include intimate dance steps without my consent, knowledge and will.
After I refused to do the steps, I was being forced and pressurized by the producer, director and choreographer to perform these new additional intimate dance steps while Nana Patekar was still on the set and was aware of the conversation and the fact that I had refused to perform intimate steps. At this point of time because I refused to perform the dance steps as I was not comfortable with steps, same time I was threaten by the Producer Samee Siddiqui that he will call the media to defame me in the film industry and boycott me.
I walked away from set into Vanity Van as they were harassing me physically and mentally also therefore it was unable me to bear and tolerate more harassment because all were supporting and taking side of Nana Patekar and forcing me to do intimate dance steps. Hence from Vanity Van I immediately called to my parents and manager Jamshedji and they reached on the set and they asked as to why Nana Patekar misbehave with me and in reply Producer clearly stated that in any situation you have to do these dance steps and without sorting out problem in sometime they packed up the shoot and thereafter I was supposed to go home but when I step out of the vanity van I saw the media was already called out by the producer and I heard some political party worker chanting some party slogans of MNS. They started assaulting and damaging my car while me and my family were sitting inside the car trying to leave the venue. All these violent people who were attacking my car had come to support Nana Patekar as they were very angry at me for refusing to do dance step with him and complaining about his behavior, any how we were rescued by the Police and escaped from the spot. We were taken to the Goregaon Police station to record my complaint.
My statement was not recorded as per my say. Many part of my complaint has not been mentioned in the statement and not recorded as per my say.
Only the FIR for the offence of causing damaged to my car and riot was registered against a particular media person and mob and main grievance of sexual harassment by the above main culprits was left out in the FIR. I could not understand Marathi version of FIR instead of myself my father's complaint had been registered as FIR bearing No. 179/2008. After this incident I had been threatened, pressurized, putting undue influence, threat of boycott from film industry and also further threatened to implicate me in false police case and court case by Nana Patekar, Producer Samee Siddiqui, Choreographer Ganesh Acharya and MNS.
After the above incident I was under tremendous shock and I suffered psychological trauma and was unable to take up work and suffered huge monetary loss in crores of rupees. I decided to take action also by lodging a complaint with the CINE AND TV ARTISTES ASSOCIATION vide I made a written complaint dated 27th March 2008 which was registered as complaint form no. 556 dated 28th March of 2008 vide receipt no. 36914 in which I have narrated all the incident in details in my own handwriting of which I have provided copy alongside this complaint. CINE AND TV ARTISTES ASSOCIATION had passed an order and closed my matter without any investigation without considering my complaint for sexual harassment. The copy of this order is also provided herewith. CINTAA recently issued a public apology for handling this matter poorly in 2008.
On 5th October 2018 I saw news on television channel Times Now in which Producer Samee Siddiqui has made comment saying that " She must have been on her periods " This statement by him has further outraged my modesty and embarrassed me in public again.
Therefore, I request to register cognizable offence for sexual harassment and outraging of modesty against Nana Patekar, Ganesh Acharya, Samee Siddiqui and Rakesh Sarang.
My statement is recorded in presence of Sr.P.I. Kalpana Gadekar, Sr.P.I. Pasalwar, P.I. Bhandare, W.P.S.I. Sharmila Patil, my Advocate Mr. Nitin Satpute, Advocate Ms. Divya Gupta and coordinator Ashish Rai in English which were read over to me and I found it correctly written.
As per our sources, Nana, Ganesh, Sami and Rakesh will now be called over by the police for interrogation and they reportedly have 48 hours to record their statements with the police authorities.