PeepingMoon Exclusive: 'Ajay Devgn is brilliant, gives a lot to his co-actors to react to,' says Shriya Saran about her Drishyam 2 co-star
Shriya Saran is basking in the glory her recent release Drishyam 2 is bringing her way. The film has been raking in the moolah at the box office and broken several records. Co-starring Ajay Devgn, Tabu, Akshaye Khanna, Rajat Kapoor, Ishita Dutta and Mrunal Jadhav, Drishyam 2 is directed by Abhishek Pathak who took over the reins of the sequel after Nishikant Kamat's demise who directed the first part of the Malayalam remake in Hindi
In an exclusive interview with PeepingMoon.com, Shriya spoke about reprising her role in the film, revisiting the part, reuniting with Ajay and lavished praise on Abhishek's vision for the film. She also revealed her love story with husband Andrei Koscheev and spoke about her daughter Radha.
Excerpts from the interview:
RECOMMENDED READ: Tadka: Love is Cooking trailer- Nana Patekar, Shriya Saran, Ali Fazal & Taapsee Pannu bring a quirky romcom by Prakash Raj based on his Malayalam hit Salt N Pepper
How was coming back to reprising your role for Drishyam 2? Did you have to revisit the previous film and did you watch the Malayalam one?
I had to revisit then I read the story of what happened in-between, then and now because her life has changed, she has evolved, she has grown but what has remained constant is the fear of what will happen tomorrow, that has not gone. I stayed clear of the Malayalam film; I never watch the film when I am doing a remake.
How was it reuniting with Ajay Devgn in Drishyam 2 that too after RRR?
It's always a pleasure to work with him. He is a very intense actor, very hard working; he gives a lot to his co-actor to react too. His performance is always understated but his eyes speak volumes so it becomes very easy to work with him. He speaks with his eyes, his dialogue delivery is superb, and as an actor there is so much to learn from him, he is such brilliant.
How was it working with director Abhishek Pathak especially after Nishikant Kamat's demise?
We'll always miss Nishi sir and wherever he is I hope he is blessing us with his goodwill, best wishes and I think it is reflecting also on the film because a film like this it's I think is because of his blessings. But Abhishek has done a great job, hi style of filmmaking, his style of telling a story is reflected in the film and I don't think anyone could have done a better job than what Abhishek has done on Drishyam 2. The film is not a cut, copy, paste, he has done a great bloody job.
Recently you received some negative comments about kissing your husband at a public event? Your thoughts on that?
I find it really funny, Andrei and I found it extremely funny so we just laughed about it. It is perfectly fine to kiss your partner and yeah, I think it is totally fine. To be honest I haven't read any negative comments because as a rule I don't read any negative comments so if they have 'good for them', mujhe to nahi pata.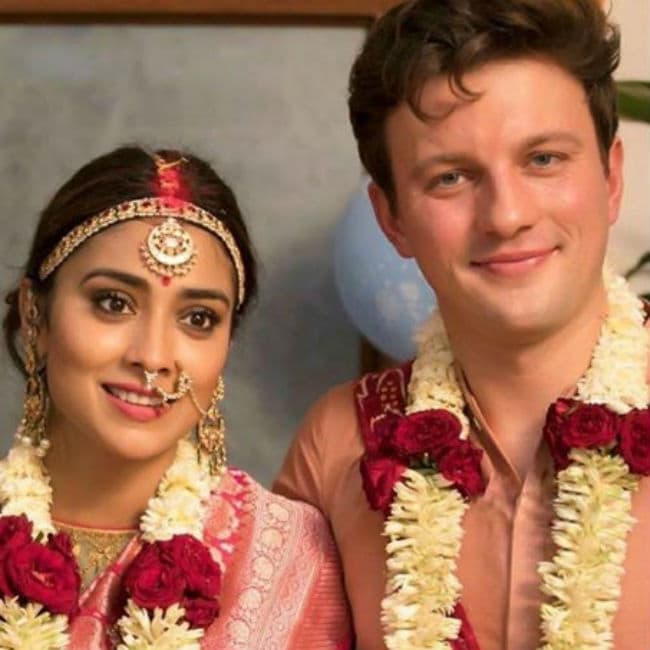 Could you tell us about your love story with your husband as not much is known seeing that you keep things pretty private?
We met accidentally, I was going for a diving trip to Maldives and I had booked wrong tickets and made it to Maldives on a wrong date. I got there a month earlier and had nowhere to go, there was a boat leaving that day for the diving trip and I went on that boat. Literally, that's how I met him; he was there on the boat with his friends. It was very random, but we met and hung out. He did not know who I was and it was very nice. We got to know each other; we were together for eight days. We dated for a year and then we got married.
These days paparazzi not only click celebs but also their kids. How do you plan to keep your daughter out of this limelight? Would you reveal her on social media anytime soon?
When she grows up and she decides to be on social media then I will be happy to do that. Right now she is too young. So it will totally be her decision about being on social media.
Kudos should be given to you for keeping your marriage and then your pregnancy away from the limelight. How did you manage?
That was because I was in Barcelona. I only recently moved back to India, only a year ago so I now live in India because with Radha I wanted her to spend time with her grandparents and as my work is here. I went back to work when Radha was 8 months old. Andrei loves India.
Would you be game if your daughter wants to be an actress in the future?
I would love to. I hope she watches Drishyam one day, falls in love with the film and I hope she likes it.
Coming back to your munchkin, do tell us about your decision to name her Radha especially when a lot of celeb babies have unconventional and non-traditional names these days?
Radha means 'happy' in Russian as well as in Sanskrit. So it means something in both the languages so that's how we decided to name her. We are also big fans of Lord Krishna so the name appealed to both of us.
How was it working with Nana Patekar in Tadka?
I loved the film Tadka and loved working with Nana Patekar sir. It's on Zee5, I hope everyone watches it and loves it.
What are your future projects?
I am doing Kabzaa in Kannada which is actually a pan-Indian film. After that I am doing a pan-Indian film with Sharman Joshi. These are the two films I am working on right now which will come out soon.