Margot Robbie is a Barbie girl in the real world as she brings dolls alive during the promotions of the film; check out her looks!
Greta Gerwig's Barbie is painting the world 'pink'. Bringing dolls to life and telling important stories from their lenses, she has delivered a masterstroke in theatres. Headlined by Margot Robbie and Ryan Gosling, Barbie is currently running in theatres globally. In the titular role, Margot took the audience to a different dreamy world in the film. While being the perfect fit for Barbie on-screen, she also brought the dolls to life during the promotions.
Her stylist, Andrew Mukamal, took inspiration from original Barbie dolls starting from the '50s to the '90s and even 2000s. Teaming up with labels like Chanel, Schiaparelli, and Balmain to Bottega Veneta, he created dreamy looks and recreated Barbie's wardrobe for Margot. Take a look at some of the top looks.
The Original Barbie
Margot wore a black and white striped bodycon dress from Herve Leger to represent The Original Barbie from 1959. She teamed it up with sunglasses, black heels and a red pout. Margot's hair was done into a high ponytail.
Solo In The Spotlight
Inspired by Solo In The Spotlight Barbie from 1960, Margot wore a black shimmery dress from Schiaparelli. It came with tulle flair at the hem. She completed the look with a multi-layered necklace similar to the one the doll wore.
Enchanted Evening
Margot looked like a dream in a Vivienne Westwood pastel pink dress inspired by the Enchanted Evening Barbie from 1960. The actress opted for a pearl necklace and a messy hair bun for the promotional activity.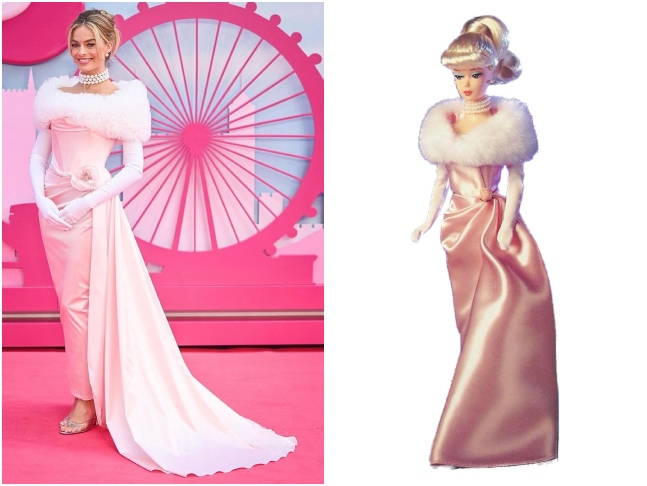 Sparkling Pink
Margot's look here was inspired by the Sparkling Pink Barbie from 1964. She wore a pink skirt with a crop top and a jacket with embellished stones. The outfit was from Moschino. Andrew styled it with a cute hat.
Day To Night
For the Day To Night Barbie look from 1985, Margot wore a pink skirt and teamed it up with a pink scarf around the neck. A hat was used to complete the look. The second look was a pink coloured dress. The outfits were from Versace.
Earring Magic
Wearing a Balmain pink outfit, Margot replicated the Earring Magic Barbie from 1992 with perfection. It was her earrings that caught people's attention.
Totally Hair
For the Totally Hair Barbie look, Margot wore a printed dress which was similar to the outfit worn by the day in 1992. She wore an Emilio Pucci dress. Margot sported wavy hair for the promotional outing.
Pink & Fabulous
Margot wore Valentino's pink polka dress to recreate 2015's Pink & Fabulous Barbie. She looked stunning in the simple yet highly impressive and clean styling. With soft wavy hair and a yellow bag, she was ready to slay!
Which is your favourite look?
(Source: Instagram)