Sooryavanshi Review: Akshay Kumar, Ajay Devgn and Ranveer Singh bring fireworks to Rohit Shetty's Diwali party
Film: Sooryavanshi
Cast: Akshay Kumar, Katrina Kaif, Ajay Devgn, Ranveer Singh, Javed Jaffrey, Kumud Mishra, Jackie Shroff, Nikitin Dheer, Gulshan Grover, Vivan Bhatena, Ashish Warang, Umakant Patil
Produced by: Dharma Productions, Cape of Good Film, Rohit Shetty Picturez and Reliance Entertainment
Directed by: Rohit Shetty
Distributed by: PVR Pictures and Reliance Entertainment
Rating: 4 Moons
It was worth the wait. Rohit Shetty's cop universe drama Sooryavanshi that's been standing in the wings for long finally and joyously explodes in theatres worldwide today. It is a cracker of a film. And it provides the bang and sizzle so required for a subdued Diwali in which the Supreme Court has banned firecrackers. By now, you knew what the film was all about. Right to the thrilling action-packed climax that has three Bollywood supercops take on an army of diehard Islamic jihadists in a blazing gun battle held right in the Anti-Terrorism HQ of Mumbai.
RECOMMENDED READ: TKSS promo: Katrina Kaif rebukes Akshay Kumar for wearing 'ghar ke kapde on the show', actor quips 'kyunki yeh mera ghar hai' as they promote Sooryavanshi
The story is a bit confusing but the plot is simple enough. It's us versus them. We are duty-bound, conscientious, patriotic policemen in khaki and cool civvies while they are hardcore terrorists sent or hired from across the border to cause another dastardly attack on Mumbai that would make the cops remember March 12, 1993 and November 26, 2008. At the heart of this jihad is Omar Hafeez (a brooding Jackie Shroff) across the border who wants to use the 600 kilos of RDX left behind from 1993 to rip apart the social fabric of Mumbai all over again 27 years later.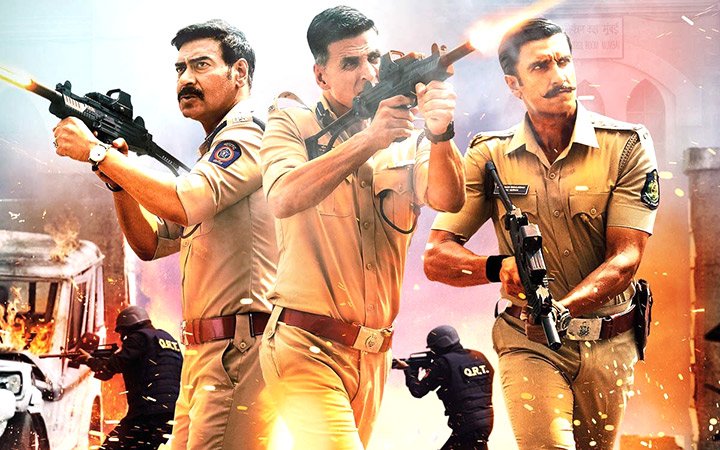 Standing in his way is the gritty but cool ATS chief Veer Sooryavanshi (Akshay Kumar, sardonic and comic) and his team of really believable policemen supervised by Kabir Shroff (Javed Jafrey in a serious role) and made up of tough cops like Vivan, Bhide and Tambe (Vivan Bhatena, Umakant Patil and Ashish Warang) whose names their boss "Sir" conveniently forgets or hilariously confuses. They take down the baddies in exciting shootouts and unarmed combat that is of a notch higher than what you normally see in Bollywood cop actioners.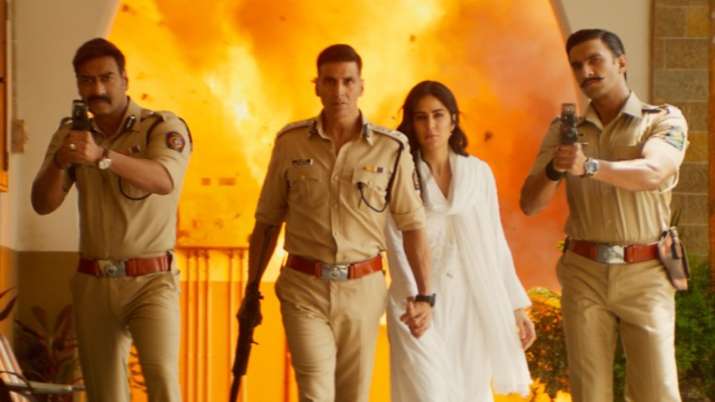 The baddies are several. And after some time it gets hard to remember who is an ISI agent and who are the terrorist sleep cell members waiting for D-Day to happen in Mumbai. The serial blasts of 1993 are revisited all over again. Sooryavanshi lost his parents in that mayhem and he's not about to let Omar Hafeez carry it out all over again. There are breathtaking car and bike chases in Bangkok and a daring pursuit carried out from a chopper over the sea with Sooryavanshi hanging below to scoop out a baddie riding a water scooter.
And there's a hugely entertaining last quarter in which Sooryavanshi is joined by Rohit Shetty's earlier supercops Bajirao Singham (Ajay Devgn) and Bhalerao Simmba (Ranveer Singh) in a crackling gunfight that has the NSG dropping in to play supporting roles. This is the part audiences will wait and whistle for. There is much comedy between the three cops even in the heat of battle with witty and razor sharp dialogue traded between them flying like bullets. All three get into hand-to-hand combat when they run out of bullets and the action is amazing.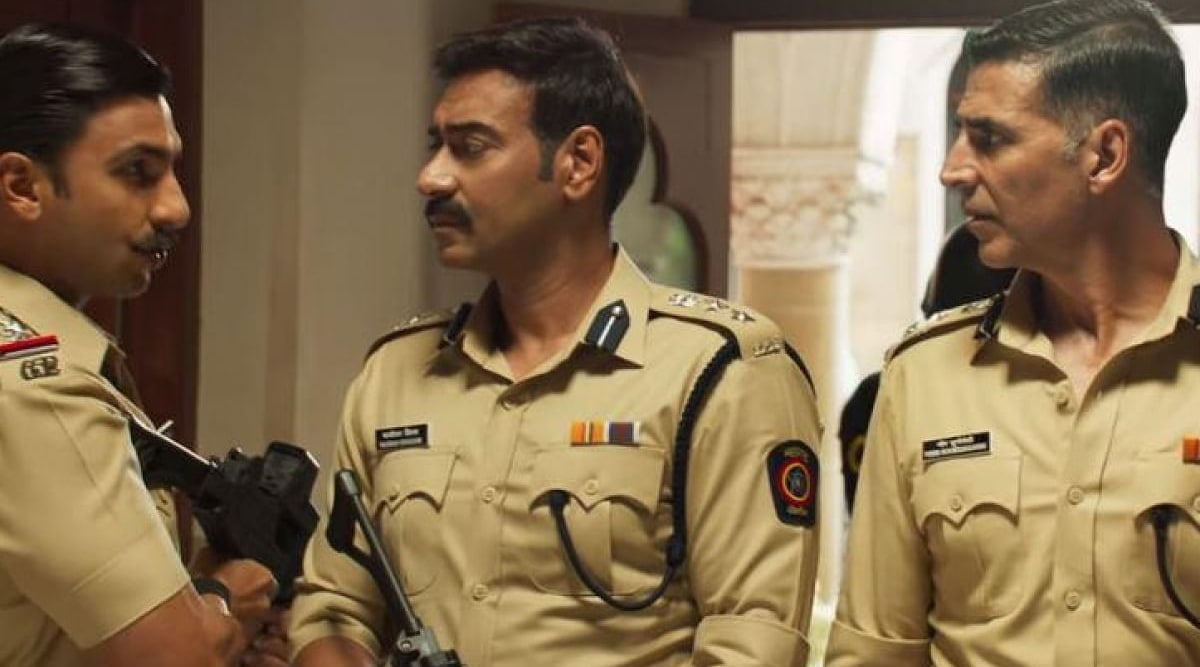 Everybody does his job commendably well and you can see they had a blast while making this film. There's also Ria Sooryavanshi (Katrina Kaif as a doctor, playing the ATS chief's long-suffering wife), who provides the sizzle in a sensuously done remake of Tip Tip Barsa Paani and has several good scenes with some meaningful dialogue to deliver. The film is what people jaded by Covid and the lockdown need and coming to theatres for Diwali it will draw people back to the cinema. And yes, Rohit Shetty gets to blow up cars and police vans. Several of them. Go, see, enjoy.
PeepingMoon.com gives Sooryavanshi, 4 Moons.