Kurup Review: Dulquer Salmaan shines in a negative role but the film takes too many creative liberties to bring forth a true crime
Film: Kurup
Cast: Dulquer Salmaan, Indrajith Sukumaran, Sobhita Dhulipala, Shine Tom Chacko, Sunny Wayne, Bharath, P Balachandran, Vijayaraghavan, Saiju Kurup, Hareesh Kanaran, Sudeesh, MR Gopakumar, Surabhi Lakshmi, Maya Menon, Vijayakumar, Shivajith Padmanabhan
Director: Srinath Rajendran
Dulquer Salmaan starrer Kurup chronicles the life and crimes of one of India's most wanted criminals and fugitives. Often credited as India's longest wanted fugitive, Sukumara Kurup is still missing and untraced since 1984, after he murdered and fakes his own death. In Kurup, Dulquer portrays the eponymous conman in a fictionalised tale filled with half-truths that take a lot of creative liberties and presents Kurup's most horrific crime in a sugar-coated way.
The film, which starts off with a long disclaimer, is set over several years in the 60s and 70s and presents the titular protagonist in his early life with the notion of bringing forth his style, swag and flamboyance. This crime is presented as a series of such acts by Gopikrishna Kurup, played by Dulquer. The film shows how a runaway army man, turns into a well-paid expatriate with a criminal bent of mind and an unquenchable thirst to accrue more than what he deserves.
RECOMMENDED READ: Kurup: Dulquer Salmaan turns into the elusive fugitive and accidental conmen Sukumara Kurup, Karan Johar shares the intriguing trailer
The story and script, written by Jithin K Jose, KS Aravind and Daniell Sayooj Nair takes a long time in establishing Kurup's character with an elaborate backstory. The protagonist's crooked nature is made clear right from the beginning when he hoodwinks his parents in believing that he has cleared a public examination, which he had not even appeared for. He further devises schemes to make quick money at the Air Force training camp and fool the other trainees as well. However, some of these events seem a bit forced as they are made to highlight Dulquer's and Kurup's flamboyant nature with no concrete connect to the film and to appease the audience who would whistle at a masala and mass entertainer. The romantic angle with Saradha (Sobhita Dhulipala) is also half-baked as the character disappears fully after the intermission.
To the credit of the writers, the story is revealed through recollections of Kurup's Air Force colleague Peter (Sunny Wayne), the diary entries of police officer Krishnadas (Indrajith Sukumaran) and his own retellings and lays bare his criminal bent of mind, but the film worships Kurup as a hero and gives his misdeeds a heroic tone in several segments. However, it neither celebrates nor glorifies the absconded criminal. Director Srinath Rajendran's film also does not restrict itself to presenting Kerala's most discussed and infamous crime story but brings forth a perfect mix of fiction and truth that reveals Kurup's journey as an individual.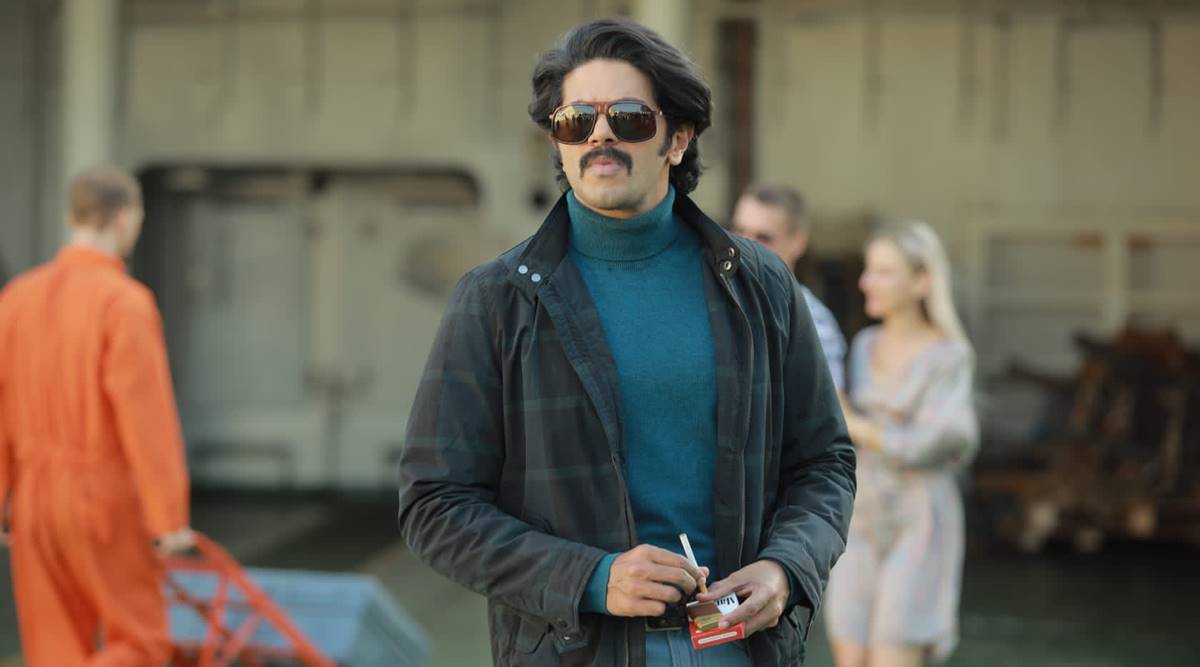 Dulquer Salmaan as the titular character sheds his boy-next-door image in Kurup and delivers a fine performance. He deserves credit from taking on a negative role and letting his co-stars hog the limelight wherever needed. Sobhita Dhulipala also impresses with her short role as the romantic lead. The supporting cast of Sunny Wayne, Bharath, late P Balachandran, Vijayaraghavan, Saiju Kurup, Hareesh Kanaran, Sudeesh, MR Gopakumar, Surabhi Lakshmi, Maya Menon, Vijayakumar, Shivajith Padmanabhan and others give commendable performances that drive the film forward. Indrajith Sukumaran deserves a special mention for his cop avatar but Shine Tom Chacko as Bhasi is a stellar act.
Kurup wins in the department of production design created by Banglan, especially scenes set in the bygone era. Nimish Ravi's cinematography brings to life Banglan's recreated set pieces of the 60s and 70s beautifully. Vivek Harshan scores with his editing and Sushin Shyam's music enhances the film. However, the story could have been crisper and taut with direction and narrative fast-paced that would have given more credibility to the slow-burn thriller.
Kurup is a somewhat bumpy ride for people who expect a true-blue crime thriller unfold on the big screen but for Dulquer Salmaan's fans it would prove to be a delicious piece of cake.
PeepingMoon.com gives Kurup, 3 Moons.