Gandhi Godse-Ek Yudh Review: Rajkumar Santoshi's comeback directorial is a clueless, dramatised tale of Mahatma Gandhi vs Nathuram Godse conflict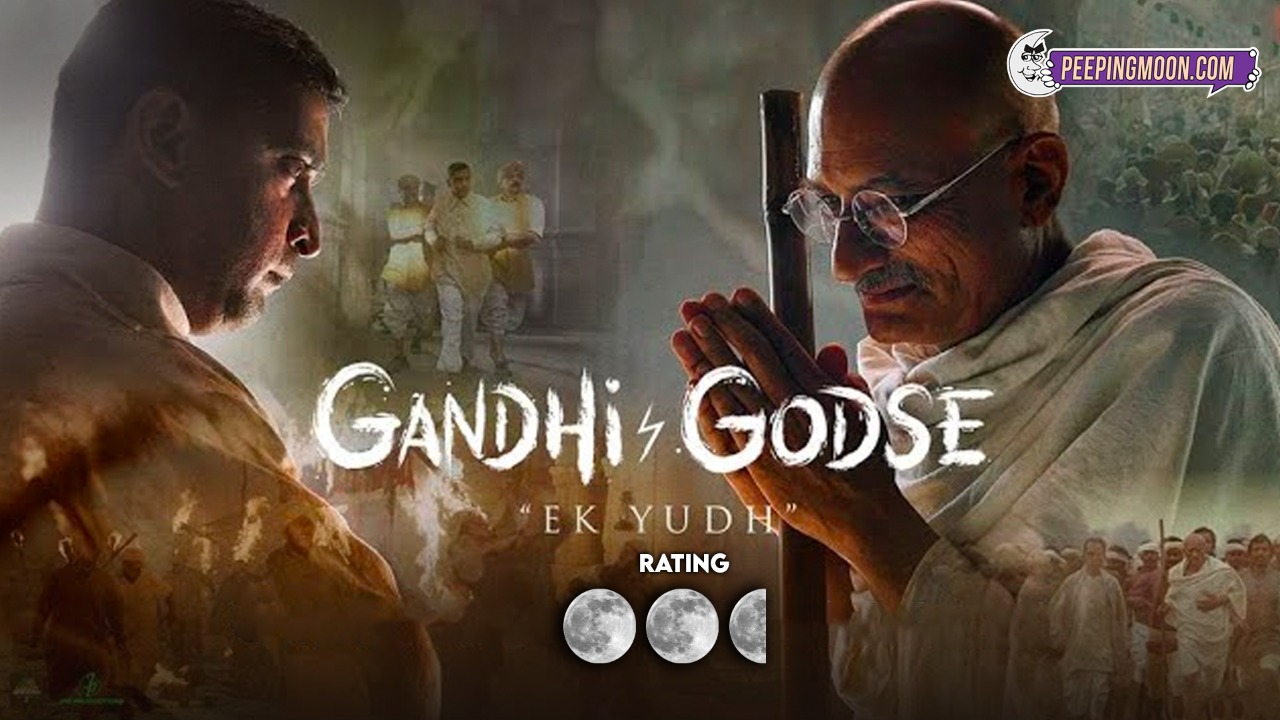 Film: Gandhi Godse-Ek Yudh
Cast: Deepak Antani, Chinmay Mandlekar, Tanisha Santoshi, Anuj Saini
Director: Rajkumar Santoshi
Rating: 2.5 Moons
After a decade of being missing in action, Rajkumar Santoshi is back in the director's chair with the retelling of a chapter from Indian history. In his directorial comeback titled Gandhi Godse-Ek Yudh, Santoshi attempts to tell the story of a clash of ideologies. The central characters in this narration are Mahatma Gandhi and Nathuram Godse. The film releases in theatres on Friday. Gandhi Godse-Ek Yudh begins with a disclaimer that the film remains unbiased and presents the ideologies of Mahatma Gandhi and Nathuram Godse without influencing anyone. Does the disclaimer prove right? Let's figure it out.
In the 110 minutes long film, we're introduced to the diverse characters. Gandhi (Deepak Antani), a staunch follower of the principle of ahimsa (non-violence), desires to create a safe world for Muslims in 'Hindurashtra' and believes in Hindu-Muslim unity. However, an ugly incident between the communities gives birth to a wave of hatred for Gandhi. He finds his nemesis and arc rival in Godse (Chinmay Mandlekar), a Maharashtrian Brahmin, who wants to paint his beloved 'Hindurashtra' with 'bhagwa rang' (saffron). The story progresses forward when Godse's attempt to assassinate Gandhi fails and he is sent to jail. The rest of the film is based on Gandhi and Godse's interactions along with the events that unfold in the former's life.
The fundamental problem with Gandhi Godse-Ek Yudh is that the film never takes the conflict too seriously. As individuals, Gandhi and Godse get more prominence that the actual 'yudh' between them as promised by Santoshi through posters and other promotional assets. The retelling of the incidents, though dramatised to make it more palatable for the Indian audience, appear too bland to create the right amount of excitement.
Santoshi, whose last directorial was Phata Poster Nikhla Hero in 2013, seems to still exist in the era of filmmaking that was accepted a decade ago. The treatment of the story lacks balance, the ability to keep the audience glued to their seats, and most importantly, a voice of its own. The Vicharon Ka Yudh that he attempted to highlight never gets adequate limelight.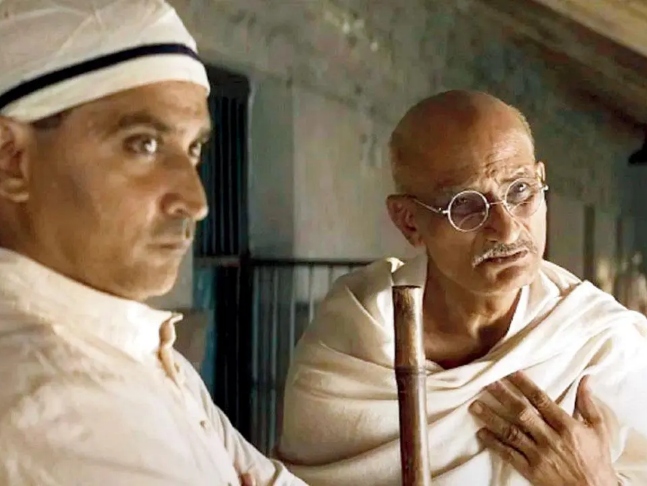 While Gandhi Godse-Ek Yudh has actors who resemble real-life personalities, the point they wish to present before the audience isn't clear. Santoshi challenges Gandhi's celibacy and Godse's Islamophobia, the plot post-interval dampens the entire purpose of creating the film by introducing a change in temperament that comes through just a few dialogues. In fact, Godse even steps in to save Gandhi's life after spending a couple of days with him in a prison. Were ideologies put at stake so easily?
Amid all the political storytelling, Santoshi injects a love story which also becomes the launch vehicle of his daughter Tanisha Santoshi and Anuj Saini. This love story ain't your regular one. There's crying, crying, and only crying. It becomes difficult to understand whether those tears express joy or sadness. It wouldn't be surprising if one feels the love story gets more precedence than the political conflicts.
Performances by Deepak Antani and Chinmay Mandlekar save the ship of Gandhi Godse-Ek Yudh from sinking. They not just look their parts but adapt their mannerisms perfectly. Deepak derives finer nuances from Mahatma to play the role convincingly. Chinmay is equally good as the stern Hinduwadi.
Tanisha and Anuj make their debuts with Gandhi Godse-Ek Yudh. The former looks pretty and well-dressed in every frame. Even in jail. However, the same promise lacks in her acting. Her expressions don't match her dialogues. She gets to do the maximum crying and it isn't convincing at all. Since this is her first film, she holds a good screen presence but nothing in the acting department. Anuj lacks a believability factor in his dialogue delivery. The few dialogues he gets to say feel rehearsed and not organic.
Vaishnav Jan To by Shreya Ghoshal is a melodious rendition. The background score suits the setting of Gandhi Godse-Ek Yudh. The cinematography is on point and so is the editing. The writing department falters majorly.
Gandhi Godse-Ek Yudh is an unexciting film relying too heavily on Deepak and Chinmay's fantastic performances.
PeepingMoon gives Gandhi Godse-Ek Yudh 2.5 Moons