Selfiee Review: Akshay Kumar-Emraan Hashmi give green signal to a truck full of humour and heartwarming emotions
Film: Selfiee
Cast: Akshay Kumar, Emraan Hashmi, Meghna Malik, Abhimanyu Singh, Nushrratt Bharuccha, Diana Penty, Neev Ahuja
Director: Raj Mehta
Rating: 4 Moons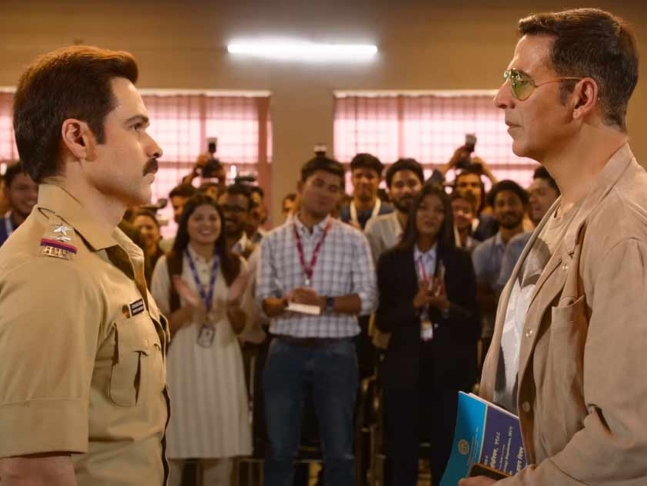 The blockbuster trio of Akshay Kumar, Karan Johar and Raj Mehta is back, and how! Clicking a 'selfie' comprising pitch-perfect entertainment, humour, and heartwarming emotions, the trio teams up with Emraan Hashmi, Meghna Malik, Abhimanyu Singh, Nushrratt Bharuccha, Diana Penty and Neev Ahuja for an unforgettable family entertainer. Selfiee, the new Dharma Productions film, is an adaptation of Prithviraj Sukumaran's Malayalam hit Driving License.
Akshay begins his new year at the box office with Selfiee in which he plays a superstar named Vijay Kumar who is known to have a clean and successful history at the box office. His battle is not just against trolls, haters and competitors but also his biggest fan, an RTO officer Omprakash Aggarwal. Their conflict gains ground over a driving license and a selfie. While Selfiee might come across as a film centered just around the Superstar vs. Superfan conflict, it is much more than what appears on the surface. It is a heartwarming tale of a father wanting to be the real-life hero to his son (Neev Ahuja) and also of a person who is willing to sacrifice his career to experience the joy of fatherhood after waiting for a long time. The film holds a mirror to the kinds of people we meet in our daily lives and how not everyone who seems to be your well-wisher is genuine.
Selfiee is a testament that if a good idea on paper is executed by a brilliant mind and a clear vision, the result is nothing but a blockbuster. Despite being a remake, the film does offer you a unique freshness of its own. A film in a film is a concept that never gets worn out. With Selfiee, the idea gets a brand new flavour with loads of humour. While it has the power to make the audience laugh their hearts out, it doesn't compromise on the emotions that strike the right chord. The antagonists get the best dialogues to say, especially Abhimanyu Singh, who plays Vijay's friend-turned-rival.
Raj Mehta is among the finest Indian directors. Humour is his magic wand and emotions his enchanting secret spell. He understands the importance of balancing both without going overboard. Raj's direction keeps you hooked to the screen for 2 hours and 23 minutes without a single boring moment. Giving equal scope for Akshay and Emraan to shine, he builds a crescendo, allowing you to smoothly flow along with the characters into the narrative. In the past, Raj and Akshay worked together in Good Newwz (2019) and they recreate the same impact. The director knows what has to be offered to his audience and utilises his actors in making sure their best is put out there on the silver screen.
The film is bustling with multiple subplots. Right from surrogacy, fatherhood, ethics, superstardom, super fandom, and screen idol worship to boycott Bollywood calls, meta humour, media circus, and actor-media relationship, there are various treats to lure you into being a part of this full-package entertainer. The dialogues of Selfiee are one of the support pillars. Most of them are perfectly assigned to Akshay, Meghna and Abhimanyu. The background score ably lends to the humourous dialogues.
Who's better than Akshay Kumar to handle meta humour with uncanny ease? The superstar, known for his comic timing and sleek action stunts, gets to do both in Selfiee. He plays an extended version of himself – a star with a king-sized heart, respect for his fans and a law-abiding citizen. He carries himself as smoothly as he does in his routine life throughout the film. As superstar Vijay, Akshay brings out his goofy, naughty, vulnerable yet strong side effortlessly. There's a dialogue in Selfiee about the number of films, TV shows and ads he does in a year. Who could have done that better than the superstar himself? And he's looking so good, too.
Emraan is a phenomenal actor and Selfiee is just another proof of that talent. He handles the emotional scenes with grace and proficiency which makes him a unique and perfect choice to play the role of Omprakash. The actor nails the Bhopali dialect. His on-screen relationship with his son, played by Neev Ahuja, is memorable and lovable. When he shares the screen space with Akshay, it is fire. While Akshay brings in humour and the beauty of his larger-than-life personality, Emraan balances it with heavy emotional scenes.
Abhimanyu Singh is an explosion on screen whenever he appears. Causing a laugh riot, he delivers some of the best dialogues and each of them lands right all because of his acting brilliance. It is a delight to watch him add oodles of humour to Selfiee when most filmmakers typecast him in villainous or caricaturist roles. Meghna Malik does wonders with her character. Using laughs as her weapon, she pierces it straight into the heart and we cannot complain.
Neev Ahuja has done a good job as Omprakash's son. He wins hearts with his innocence and sweet screen presence. Nushrratt Bharuccha does well as Omprakash's wife Minty. Despite having just a special appearance, Diana Penty plays Vijay's wife Naina with a certain degree of charm.
The rap song Jungle Tera Mujhe Kehte Hai Sher plays in the background and suits the setting perfectly. Kudiye Ni Teri Vibe picturised on Akshay and Mrunal is a visual treat and so is Main Khiladi. The cinematography is at its finest. The editing of Selfiee is crisp and to the point.
It's time to take a 'selfie' of entertainment with Akshay and Emraan. Allow yourself a weekend treat with the team of Selfiee in theatres. It is a complete package of entertainment fit for all age groups. Poora paisa vasool!
PeepingMoon gives Selfiee 4 Moons