Helmet Review: Aparshakti Khurana and Pranutan Bahl's film delivers a much-needed social message with ample dose of humour and defined performances
Film: Helmet
Cast: Aparshakti Khurana, Pranutan Bahl, Abhishek Banerjee, Ashish Verma, Dino Morea
Director: Satram Ramani
OTT: Zee5
Rating: 3 Moons
Even today the majority of people face the difficulty of buying a condom at a retailer. Not only sex but ways to prevent pregnancy i.e. buying contraceptives becomes taboo and extremely embarrassing. The film Helmet follows this premise. Helmed by Satram Ramani, the film is a satire that openly discusses the use of 'Nirodh' and the societal and psychological challenges that comes with its use. In the second-most populated country, contraceptives are like livewire not to be touched and neither to be spoken about.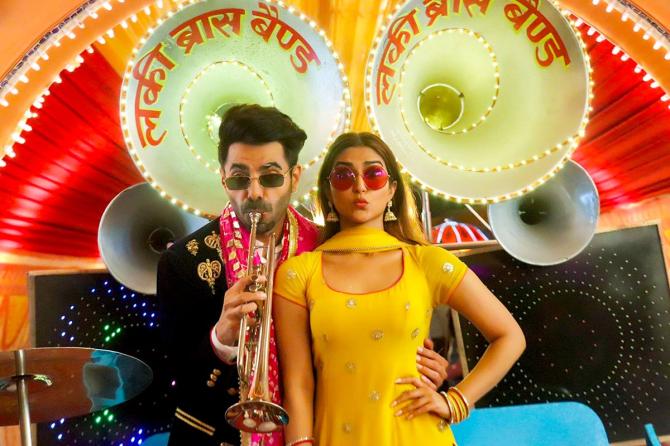 RECOMMENDED READ: Cinderella Review: Camila Cabello's film gives a modern take to the age-old fairytale with career aspirations and dreams of being true to oneself
Helmet is set in the small town of Kanpur and tries to give a feel of how the entire country behaves. Lucky (Aparshakti Khurana) is a wedding performer who aspires to open his own wedding band and marrying his girlfriend Rupali (Pranutan Bahl), a flower decorator at weddings. However, their families' financial difference is a setback as Rupali comes from an affluent family and Lucky can barely make ends meet. In a bid to make some quick buck, Lucky enrolls the help of his friends- Sultan (Abhishek Banerjee) and Minus (Ashish Verma) to rob a goods truck that is laden with the merchandise of an e-commerce portal. However, their golden plan come cropper when they realize that the merchandise that they have stolen is not consumer durables but several thousand boxes of condoms. How will they manage to dispose of them and still manage to rake in some moolah is the crux of the story.
Satramm Ramani's direction and Rohan Shankar's screenplay keeps the audience engaged throughout and brings ample amount of laughter in the film as they address the serious and poignant question of why Indian men are so averse to using contraceptives. The film starts with Lucky's embarrassment to buying a condom and soon shifts focus to how to dispose of the stolen contraceptive goods. He formulates a company called 'Helmet' and tries to sell condoms to different retailers. The film's most hilarious moments ensue when he tries to sell the condoms to a medical store owner Shambhu (Saanand Verma). Their crackling chemistry is the highlight of the film and is a testimony to their impeccable comic timing.
Aparshakti impresses with his first lead hero act and delivers some amazing one-liners with panache. He does justice to Rohan Shankar's dialogues. Abhishek Banerjee and Ashish Verma also impress with their 'hero's friends' character. Pranutan Bahl, as the street-smart but supportive girlfriend compliments the male trio beautifully.
The quirky comedy would have been more effective if the length would have been curtailed, as the story ultimately drags and loses its steam at the end. Nevertheless, it's a good attempt and is highlighted with defined performances and relevant social message.
PeepingMoon.com gives Helmet 3 Moons.