Monica, O My Darling Review: Rajkummar Rao, Huma Qureshi & Radhika Apte are delicious in Vasan Bala's whacky thriller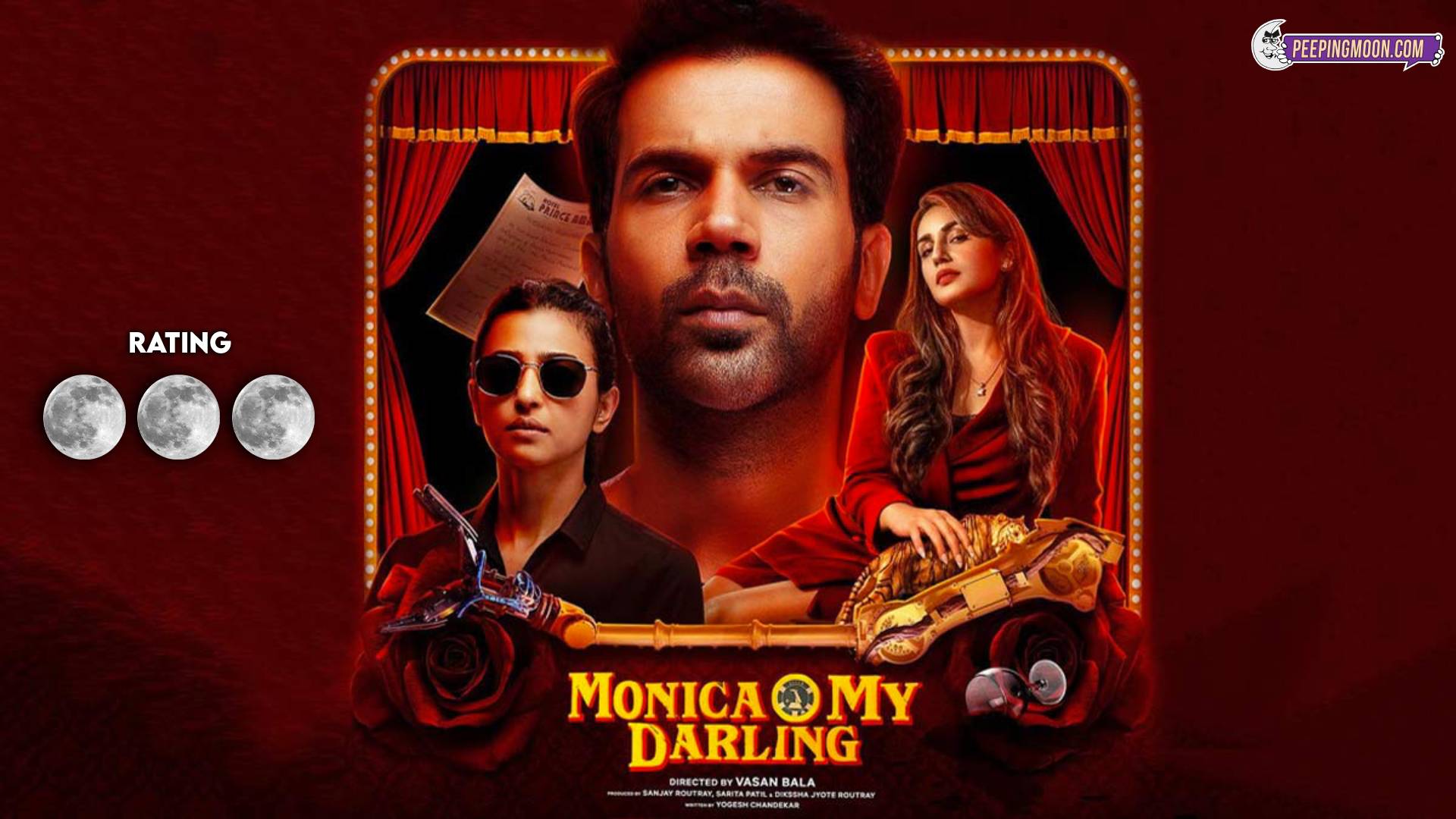 Film: Monica, O My Darling
Cast: Rajkummar Rao, Huma Qureshi, Radhika Apte, Sukant Goel, Sikandar Kher, Akansha Ranjan Kapoor, Zayn Marie Khan, Bagavathi Perumal
Director: Vasan Bala
OTT: Netflix
Rating: 3 Moons
Vasan Bala is someone you expect to deliver whacky, quirky and out-of-the-box content. He set the benchmark high with Mard Ko Dard Nahi Hota and then his short film in Netflix's anthology Ray. Now, he is back with yet another intriguing and interesting film titled Monica, O My Darling. A whodunnit with humour in abundance, it has premiered on Netflix today.
As the title suggests, Monica, O My Darling revolves around Monica Machado (Huma Qureshi), an employee at Unicorn Robotics. Jayant Arkhedkar (Rajkummar Rao) is made the new head of the robotics department leaving a sour taste in the mouth of his contemporary. His girlfriend Niki Adhikari (Akansha Ranjan Kapoor) is the daughter of Unicorn Robotics' chief. While the father-daughter are supportive of Jayant, the son, Nishikant Adhikari (Sikandar Kher) dislikes him.
At a party hosted by Mr. Adhikari, where Jayant is introduced as the head of the department, Monica sets the dance floor on fire and attracts Jayant towards her. However, the night of sizzling dance performance then leads them to an opportunity to please their sexual desires. After meeting each other's sexual requirements, Monica claims to be pregnant with Jayant's child. This earth-shattering moment leaves Jayant confused as Monica traps him in his web of 'blackmailing'. He realises he isn't alone on the ship. Nishikant and Arvind (Bagavathi Perumal), an employee of Unicorn Robotics, are his companions. The trio, trapped badly in Monica's web, plans to get out of it unhurt. They choreograph Monica's murder which appears like an animal attack. But is this the end of her chapter? Will Jayant, Nishikant and Arvind fall into their own trap? Vasan addresses these questions with oodles of humour, whacky situations and trippy background score. Of course, all of this is not without Radhika Madan and Abhimanyu Dassani's magic touch.
Vasan directs a whodunnit without giving it a typical whodunnit touch. Pouring in a jar full of quirk, twists and style, he will make you laugh in the grimmest and taut situations. With Yogesh Chandekar, the writer (who also wrote Andhadhun), Vasan creates a world that's dark but colourful and spicy. Weaving a story around how two murders, committed six months apart, are interconnected, Vasan's Monica, O My Darling is fun despite its flaws. The interesting part is how Jayant is often bullied by the women in his life. Firstly, by his girlfriend, secondly by Monica, and lastly, by the badass cop.
Monica, O My Darling is at its best when Rajkummar and Huma share the screen space together. One shouldn't miss out on how beautifully Monica and Jayant's fistfight has been placed and the sequence post that. It has to be noted that the sequence revolving around Jayant, a murder agreement and a building has been brilliantly conceptualised.
Monica, O My Darling gives a fresh and new touch to a thriller that could have easily passed off as an OTT version of CID and Crime Patrol and the efforts to do so are visible. The dramatic highs are the USPs of the film. The retro-style background score and a shady colour palette work big time for the film. But there are way too many things happening in the film to process at one time. Murder, love, betrayal, politics and what not. Some subplots shine while some fall flat. Though the climax is unpredictable, the few missteps taken to reach it cannot be neglected. If you happen to be patient, some of the many twists will surprise you.
Rajkummar's chemistry with Huma is hotter than that with Akansha, who is limited to the role of a clingy, super-rich girlfriend. Apart from Rajkummar, plots assigned to key characters feel half-baked, especially Sukant Goel who gives his best to cover the flaws with his brilliant performance. At intervals, the audience is left to decide their own narrative but that clearly doesn't work in the film's favour. In the quest to reach the conclusion at the earliest, some characters and sub-stories are underexplored and feel rushed.
Though Monica, O My Darling is largely circled around Rajkummar, it is Huma who steals the thunder with her deliciously written Monica. A seductress with her mannerism, she captivates with her infectious screen presence. In the titular role, Huma does justice to Monica and makes us crave for more. Rajkummar, as always, excels in the role given to him. Since the film is majorly about Jayant, the actor gets more screen time than anybody else. Bringing out the sentiments of a first-time murderer, Rajkummar hits the bull's eye even when it comes to straight-faced humour.
Sukant Goel as Gaurav More gets one of the most intriguing roles and he doesn't disappoint. Despite being undercooked, the actor adds flavour to a tricky character. Sikandar Kher does justice to Nishikant's brief role. He is undoubtedly an underrated performer. Zayn Marie Khan is good as Shalu but there could have been more of her to justify some twists and revelations. Akansha Ranjan Kapoor looks gorgeous but barely gets to do anything. While she shows promise, she gets an underwhelming role to play. 'Above all' is Radhika Apte. As a cop with shades of grey, the actress strikes and shows her potential in the second half of the film. In the cocktail of multiple flavours, Radhika adds pungency. On the other hand, Bagavathi Perumal is a bonus when it comes to humour.
The true hero of Monica, O My Darling is Achint Thakkar, who composed the music for the film. The soundtrack plays an important role in helping you engage with the thriller better. The lyrics of the songs, penned by the brilliant Varun Grover, are situational and enhance the overall movie-watching experience.
Monica, O My Darling is a whacky film owned by Rajkummar, Huma and Radhika's delicious performances. Vasan's aim to evoke nostalgia by touching upon old school murder mystery genre is achieved and how! With some hiccups here and there, the film serves entertainment throughout.
PeepingMoon.com gives Monica, O My Darling 3 Moons