Shotgun Wedding Review: Jennifer Lopez and Josh Duhamel give 'till death do us part' a new meaning with guns, goons and gumption galore
Film: Shotgun Wedding
Cast: Jennifer Lopez, Josh Duhamel, Jennifer Coolidge, Sonia Braga, Cheech Marin, Selena Tan, D'Arcy Carden, Callie Hernandez, Desmin Borges, Steve Coulter, Alberto Isaac, Lenny Kravitz
Director: Jason Moore
OTT: Lionsgate Play
Rating: 3 Moons
Jennifer Lopez and Josh Duhamel's Shotgun Wedding may seem like a rom-com at the beginning but it is pretty far from that. For the starters, if you're expecting some sappy romance then you'll definitely be disappointed because Shotgun Wedding is not only about a destination and exotic wedding but about working together and making a marriage work while saving your loved ones from pirates on an island who have taken everyone hostage, so throw is some ample amount of action, comedy and romance in equal measure to present an entertaining watch.
RECOMMENDED READ: Plane Review: Gerard Butler and Mike Colter's action film provides an adrenaline rush that might result in a flight scare
Shotgun Wedding starts off with Darcy (Jennifer Lopez) and Tom (Josh Duhamel) on an exotic island in Philippines where they have got all their loved ones flown down from the US for their destination wedding. The only hitch that they can see in their plans is the fact that their relations might not hit it off with each other and the betrothed couple themselves has to iron out some difficulties with their respective in-laws. Add on to that the unwelcome guest in the form of Darcy's ex-boyfriend Sean (Lenny Kravitz).
The day of the wedding starts off with hardly any smooth rides as Darcy is not happy with the traditional bridal dress that her would-be mother-in-law Carol (Jennifer Coolidge) gets her to wear. On top of that, she is having last minute jitters as she wanted a simple wedding or an elopement but Tom wanted a traditional and perfect wedding. The couple begin to get cold feet right before they say their 'I Do's' but there is a bigger trouble waiting for them just round the corner.
The extravagant tropical wedding is crashed by pirates who take everyone hostage except Tom and Darcy who had taken a detour from the rest of the party to sort things out. 'Till Death Do Us Part' takes on a whole new meaning in the film when it comes down to the engaged couple to rescue their loved ones from the clutches of armed mercenaries and also unmask the real conspiracy behind it. While fighting off goons, catching and exploding hand grenades and rescuing their loved ones, Tom and Darcy rediscover why they fell in love with each other in the first place.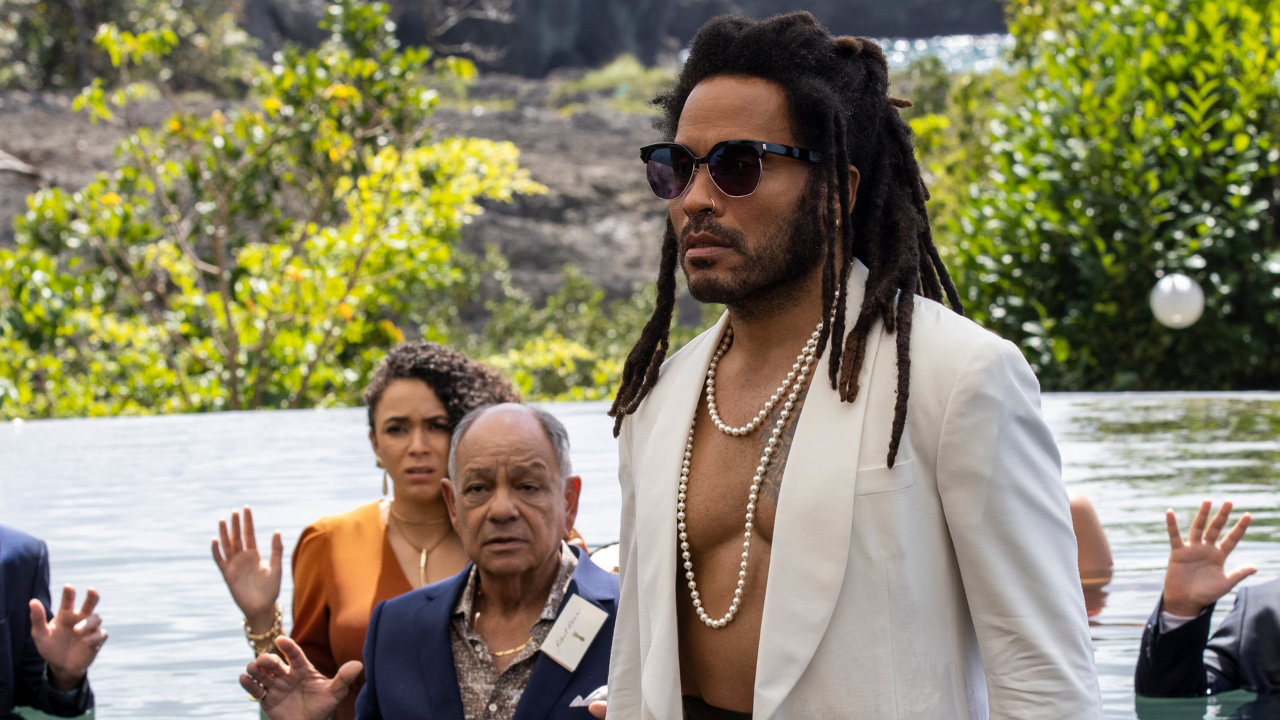 Jennifer Lopez does a commendable job as the person trying to please everyone but does not know what she herself wants. It is heartening to see the gender roles flipped in Shotgun Wedding where instead of a bridezilla who wants a 'perfect wedding' it is the groomzilla who is more invested in it and Darcy is the one who is afraid of commitment and not sure about the actual idea of marriage. However, she rises up to the challenge when it comes to saving her fiance and her family from the pirates. The body language of JLo changes for the better when she takes on a gun and knife in her hand and is finally free of her restricting wedding dress and shoes.
Josh Duhamel fits in perfectly with JLo and aces the action sequences. His expertly portrays a common man who must get into action and stealth mode when faced with grave danger and he beautifully rises to the occasion.
Jennifer Coolidge deserves a special mention as it is her deadpan and naïve dialogues that bring the most laughs in the film. She aces her character of Tom's mother with aplomb and is the third main protagonist in the ensemble cast. It is great to see her finally getting her due in films and shows.
Director Jason Moore and writer Mark Hamill's Shotgun Wedding does not deliver a single dull moment but could have been a little crisper with funnier dialogues and scenario. Also the climax could have been a little more elaborate. Nevertheless, Shotgun Wedding is an entertaining watch and will definitely interest the fans.
Lionsgate Play will exclusively stream Shotgun Wedding in India from January 27, 2023.
PeepingMoon.com gives Shotgun Wedding, 3 Moons.